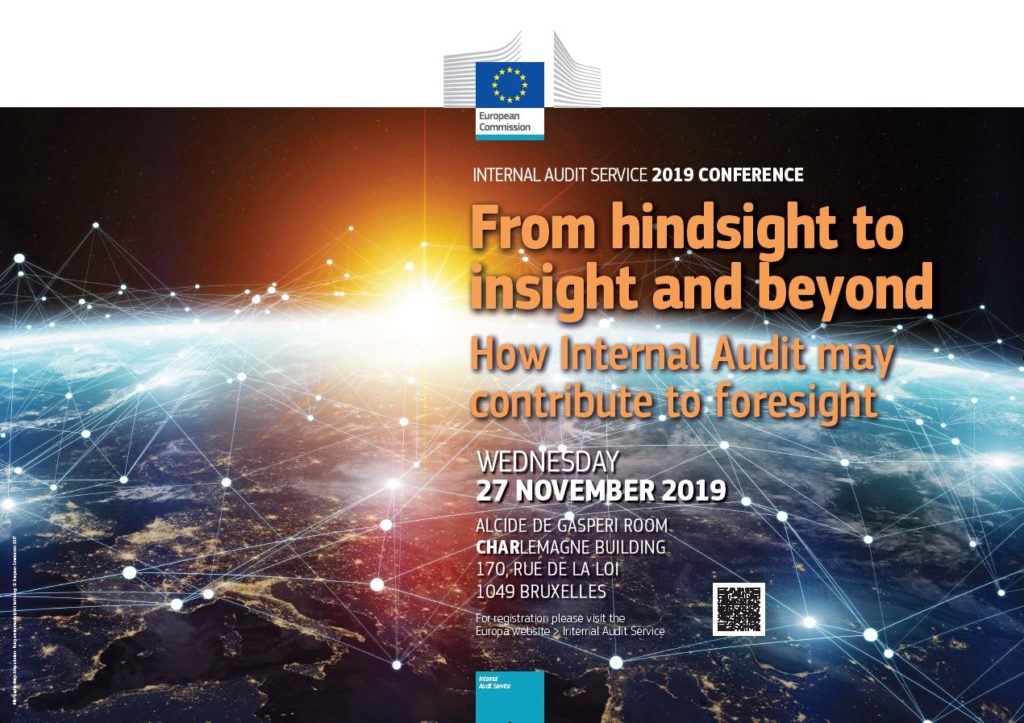 After last week's DIIR conference in Dresden, I had the pleasure today to attend the IAS conference "From hindsight to insight and beyond – How Internal Audit may contribute to foresight" in Brussels at the invitation of the European Commission. The event took place in parallel with the vote on the new Commission in Brussels.
The Internal Audit industry is facing up to the challenge of taking on the future and changing procedures and approaches. Digital transformation has an enormous impact on the future way of working.
There have been many interesting ideas on how internal audit can help organisations make forward-looking decisions in the future. How can audits accompany the future direction of the company? The main focus here is on digital change, which not only affects digitalization, but also represents a structural change in organizations and society.
More data and technologies mean that today there are far more opportunities to look at risks in organizations and to gain more precise insights, especially into future developments.
Deeper insights enable better foresight
Srinivasa Raghavan, Chief Audit Executive of ProSiebenSat.1 Media SE, showed very clearly what influence it can have on organizations not to perceive the essential signs of change and to link them to their causes. He also pointed out that data analysis is an essential part of today's and tomorrow's audit work. In addition, he provided practical examples of how to support the organization with foresight.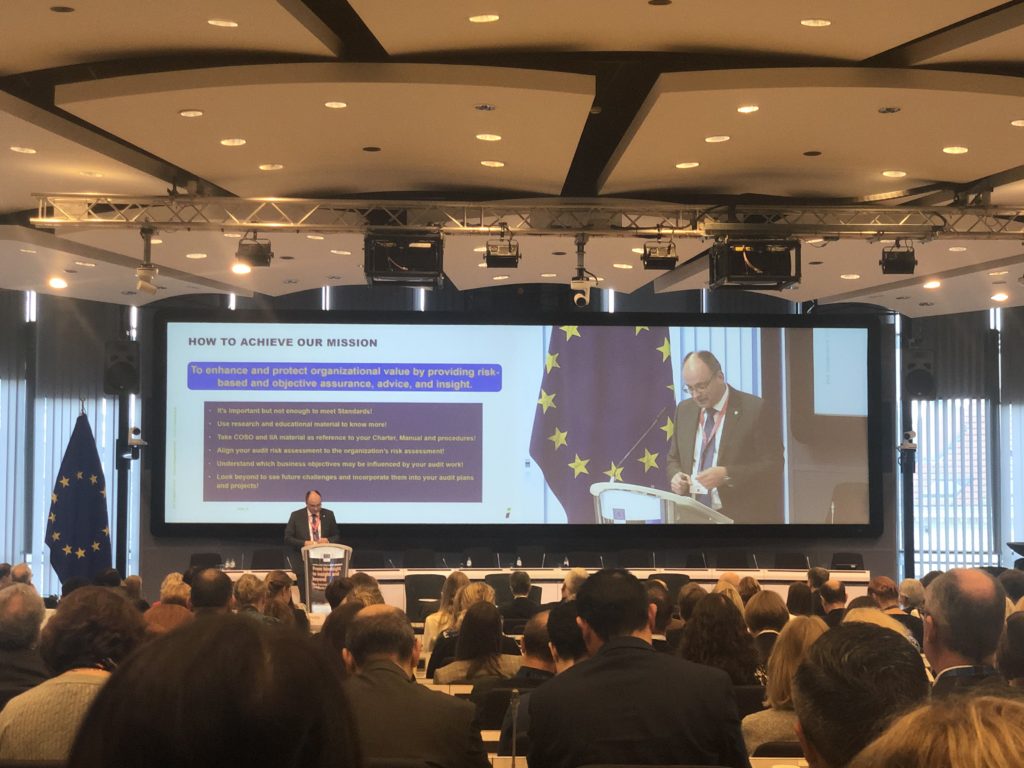 Günther Meggeneder, Head of Corporate Audit and Compliance at ista International GmbH, pointed out groups of risks in today's corporate environment. He also replaced the COSO cube with the new COSO DNA. An adapted approach that will certainly fits better with today's auditing requirements.
Professor Flemming Ruud, one of the developers of the 3-Lines of Defence Model, pointed out that a model can only ever represent simplified reality. A model like the 3-Lines of Defence model should be a help and not a requirement. He also said that the German term "Revision" – a backward-looking view – corresponds to today's audit practice. But there should also be the term "Provision", an audit function that evaluates future developments on the basis of data-based findings. The "commission" should thus support the decision-makers, but not make any decisions themselves.
What about the day after tomorrow?
Peter Hinssen, gave a refreshing and inspiring keynote about "the day after tomorrow", in which he highlighted the changes brought about by the digital revolution. He made it clear that digital change is already happening and that we must hurry in order not to be left behind by the Americans and Chinese as a European society. He played very openly with the controversy of the conservative audience and also warned that you have to wake up as soon as possible and jump on the fast moving train.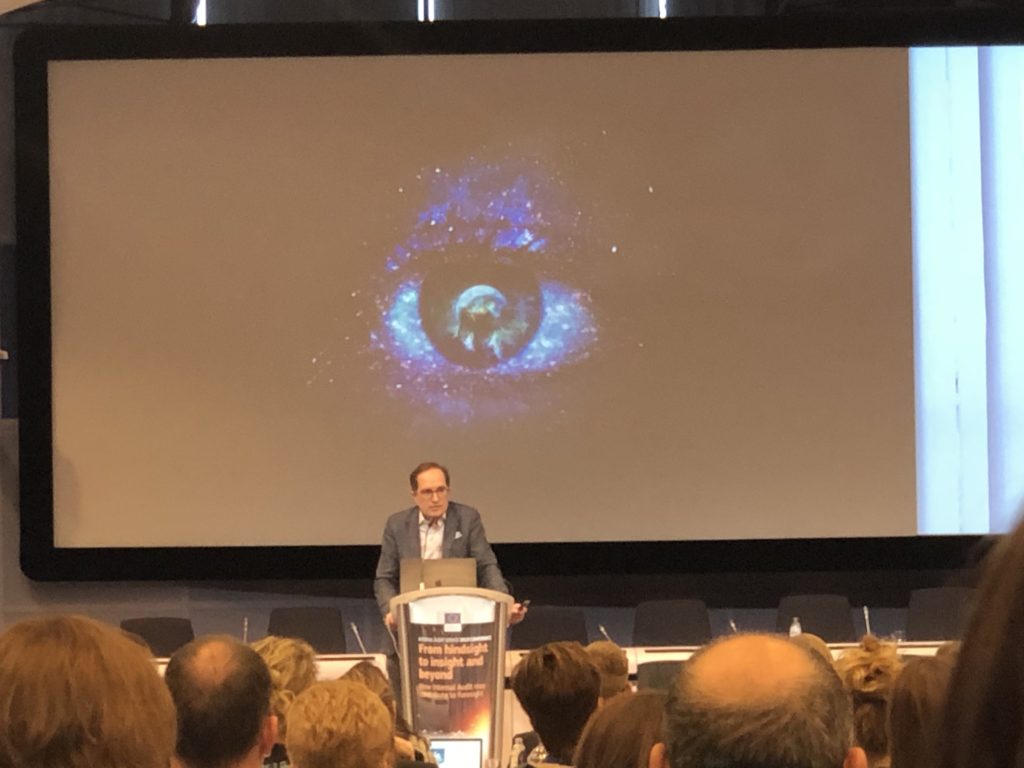 Dr. Rainer Lenz, Director Corporate Audit of the SAF-HOLLAND Group, who among other things spoke about the organization of an internal audit function, concluded the event well. What team members do I have in my auditing function and what position does the auditor hold in the company? What was particularly interesting was how the function advances its own positioning in the company within the framework of a self-assessment. Processes and statements must be goal-oriented and above all serve the client of the audit.
The presentation by Dr. Rainer Lenz can be viewed here.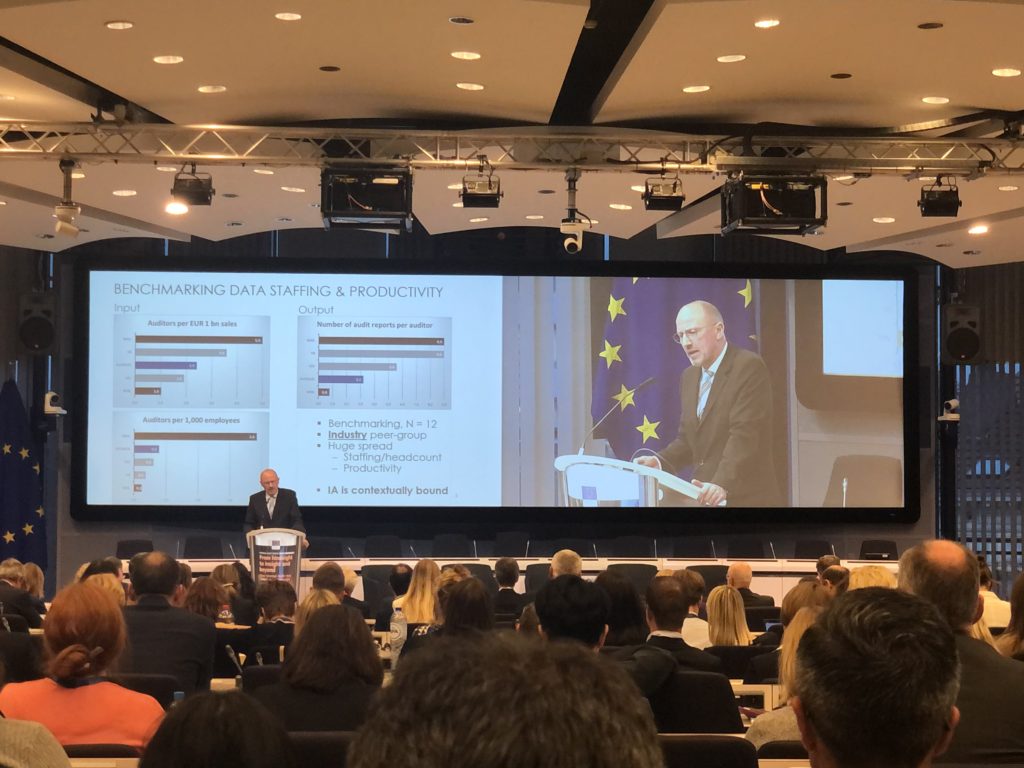 Bottom Line
It was nice to see that Internal Audit takes a critical view of its rather conservative orientation, which has been strongly represented in the industry to date, and sees a modern orientation as a critical success factor for the future of Internal Audit. Nevertheless, it is not yet clear that we are talking about structural change rather than digitalization in the context of digital change. The "points are not connected", as Srinivasa so beautifully put it.
I am curious to see how quickly this development will progress and how future requirements will be dealt with.
In one of my next articles, I will also look at the digital transformation in internal auditing and what measures can be taken.
Here is the link to the official program of the event. Next year it will take place on 18.11.2020 in Brussels. I hope to meet again many acquaintances there and to listen to many interesting lectures. Translated with www.DeepL.com/Translator (free version)